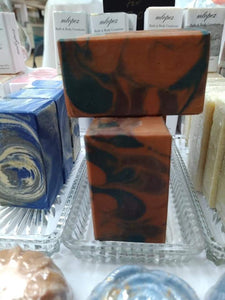 Sweet and musky scent of leather and tobacco. This fragrance is described as having "hints of coriander, clove, tobacco leaf, leather and toasted oak. * Compared to Tabac and Leather® by Crate & Barrel."
Has quickly become one of my best sellers and favorite or both men and women. A chunky bar of soap that fits the hand comfortably and a great value when compared to similar items found in "health food" stores.
Made with the same skin loving oils and butter you have all grown to love in my formulation. 
Enjoy
Ingredients: olive oil, coconut oil, palm oil, cocoa butter, shea butter, castor oil, water, sodium hydroxide, fragrance, kaolin clay, citric acid, sugar, tussah silk, and mica.