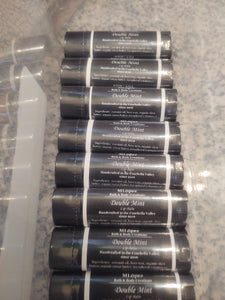 No chemical taste like so many lip balm do. Feels smoothe and silky on your lips and naturally moisturizing. No petroleum jelly products, whatsoever, so no tacky feeling. 
Available are sweetened balms and a few unsweetened balms. High quality flavoring oils and organic ingredients.
Ingredients:  coconut oil, bees wax, organic shea butter, organic cocoa butter, candilia wax, tocopherol (vitamin e), flavoring oils, and stevia powder (sweetened balms only). Spot check for allergies. If adverse reaction occurs, discontinue use immediately. Not meant to treat or diagnose illness or injuries. Not vegan friendly.
No refunds or exchanges due to the nature of the product.